Current Vaccinations Are Required
Rabies
Distemper combo
Bordetella (canine cough)
All three vaccinations must be current according to your veterinarian. Animal House will not administer any vaccinations.
All male dogs over the age of 10 months must be neutered. No exceptions.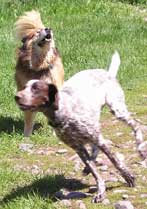 Pickup & Drop Off
When you make a boarding reservation, you will need to make an appointment time to drop off and pick up your pet(s). Arriving on time for these appointments is important as we arrange the daily exercise schedule around the appointments we have each day. If you arrive at an unscheduled time you may be asked to wait. If you are dropping off before a flight, this may interfere with getting to the airport on time. If you have scheduled to have your dog bathed before pick up and you arrive early, it is possible that your dog will not be ready to go home yet. So, please plan accordingly. We do understand that unexpected circumstances do arise, and we will make every effort to accommodate your needs, but advanced notification is expected.
Making & Cancelling Reservations
Reservations may be made over the phone, by email, sending a text message, or at the facility during a scheduled appointment (after taking a tour, dropping off or picking up your pet). If you are a new client, you will need to fill out a Boarding Agreement and a Pet Information Sheet for each of the pets you plan to board. Both of these forms can be printed from the Rates and Services page, or you may pick them up in person at the facility. You will also need to provide verification of all the required vaccinations for each pet. This may be done by bringing in copies of the vaccination certificates, or by having your vet fax them over.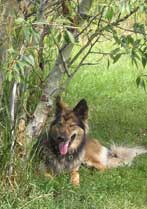 Should you need to cancel a reservation, we ask that you give at least 7 days advanced notice. Reservations cancelled with less than 7 days notice will be subject to a cancellation fee equal to one night of boarding. Exceptions to this will be considered on an individual basis.
Holiday Reservations
To make a reservation during Spring Break, Thanksgiving, or Christmas we require a non-refundable deposit equal to one night of boarding.  This deposit needs to be received within 10 days of making the reservation.  We will contact you when we receive your deposit and will confirm your reserved dates.  If we don't receive your deposit within 10 days, we will cancel your reservation.  This deposit will be applied to your boarding total.
What to Bring From Home
There are very few items that we do not allow owners to bring from home. The two items that we do not need are food or water dishes. We provide stainless steel bowls and buckets for all the boarders, and prefer that you leave all dishes at home. The one exception to this is an elevated feeder. If your dog requires a raised feeding surface then you will need to bring it from home. Other than that, everything is fair game. Owners are allowed to bring beds, blankets, cushions, toys, treats, t-shirts, towels, crates, or virtually anything else that they feel will make their pet more comfortable. The one thing we ask is that any bedding be washable. If you have any questions about specific items please feel free to ask.
If your dog requires a specific diet, then you must provide the food. Otherwise, your dog will be fed Annamaet dog food. Brochures are available at the facility if you would like to know more about Annamaet, or you can check out their website at annamaet.com.
Payment Requirements
Payment in full is due when you pick up your pet. For stays of 10 days or longer, Animal House requires a 50% deposit when you drop off your pet. At this time, we accept payment in the form of cash or check only. Sorry, We Do Not Accept Credit Cards!