Animal House is set up to offer your pet a relaxing vacation while they are away from home. The kennel room is a total of 2,000 square feet and houses 16 kennels, a grooming area, and an indoor play area that has access to an outdoor yard through our overhead door. Each kennel measures 5' x 10', and features privacy panels which serve to create a den-like environment for your dog. Without the visual stimulus of a neighboring dog, your beloved pooch will be less likely to worry about protecting his/her dinner, bed, toys, treats, etc. The kennels are large enough to accommodate oversized beds, travel crates (if your dog prefers one), and virtually anything else you may want to bring from home.
Room To Play
In addition to the indoor/outdoor play area, we also have a second, larger (approx. 50' x 110') outdoor yard where dogs have plenty of room to smell the trees, lay in the shade, and chase toys (or each other) to their heart's content. We supply tennis balls, rope toys, Jolly Balls, and Frisbees to help entertain your dog. Of course, all playtime also comes with lots of personal attention.
Daily Schedule
The daily routine varies from day to day, depending upon the particular group of dogs that we have boarding. However, each day begins at 7am when all the dogs are let out to stretch their muscles and shake off the sleep. We feed breakfast between 7:30am and 8:30am. Again, this depends on the particular group and is adjusted to allow more early morning playtime for those dogs with extra energy. After breakfast we begin our playgroups in the indoor/outdoor kennel area so that we are able to take care of all the morning cleaning requirements and also to handle the morning appointments. Once the cleaning is complete, it's out to the large yard for some real running room. Playgroups run all day, and we only break them up for feeding and/or appointment times. We feed dinner between 4:00pm and 5:00pm to ensure that all the dogs will still have plenty of time to 'use the facilities' before it's lights out for the night. If we have a very well socialized group, the dogs may be out of their kennels for ten hours on any given day.
Play Groups
We select play groups based on size, age, activity level, and play style. All playgroups are 100% supervised, and any dog that displays aggressive, fearful, anxious, and/or uncontrollable behaviors is separated from the group and given individual exercise time.
Kennel Time
The amount of time each dog spends out of his/her kennel will vary day to day. Average days will offer between 6 and 8 hours of 'free time', divided up throughout the day in both individual and group play sessions. On days that we have smaller numbers and/or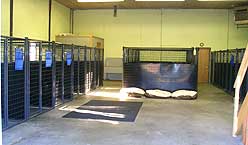 highly sociable dogs the amount of time will range between 8 and 10 hours. However, on days when the majority of our boarders require strictly individual care, we may limit each dog to 4 hours. We believe that all dogs should have as many opportunities to roam and play as possible, and all limitations that we place on exercise time are only those that we feel are necessary to keep each pet safe and happy.